Steel : those with less than 2% of carbon substance, 

Cast iron : those with more than 2% of carbon substance

Ductile cast iron : Graphite spheroidization (cast iron molten metal+ Mg) → High tenstile strength and ductility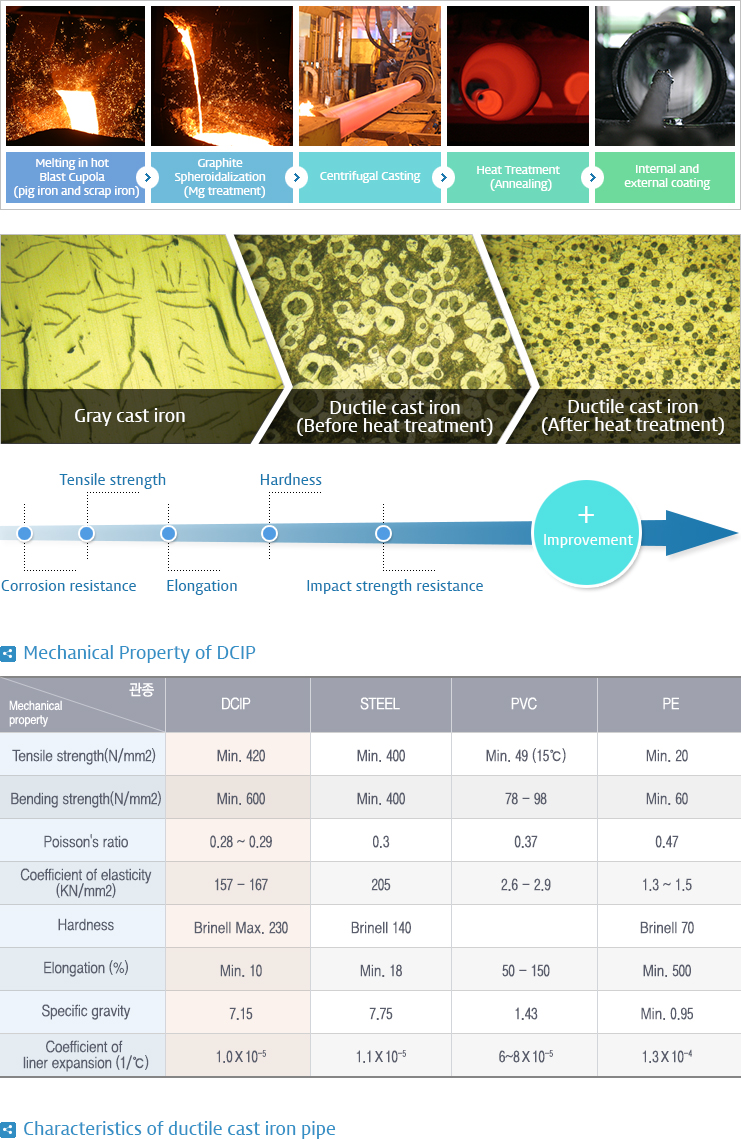 Since it has high tensile strength and thick pipe wall, it is safely suitable to high pressure water and drain pipe.
It is an environmental friendly product that consists of natural material and it is confirmed as the most excellent product compared to other products from developed countries.
▶

Advantages

It is simple and economical.

It can be constructed in congested area and non-developed regions even without special tools or techniques.

It can be constructed even with minimal excavation at joint and has a unexpensive cost for civil-engineering work.

The joint is made of rubber ring. Thus, it sustains well on moving or sinking ground and no additional illuminative
equipments are necessary since it has no risk on illumination.

It is easy to install branch pipe as a tapping.

Due to its simple bolting, it is easy to assemble and disassemble and there is no risk on one's safety during
construction. Compared to welded steel pipe, additional coating on inner and external side is not required after
construction.

The center of a ductile cast iron pipe can be adjusted easily by using various fittings and joint flexibility(Allowable
angular deflection of Joint) of various standards.